Blue Bulls Rugby League

News Report
Sponsorship Packages 2018
Author: Stephen Smith, 01/02/18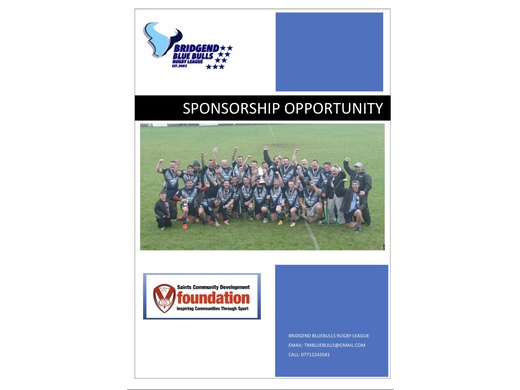 Dear Prospective Sponsor and Partner,
Hello and welcome to the Bridgend Blue Bulls Rugby League. Firstly, I would like to thank you personally for allowing us the opportunity to present you with our sponsorship proposal.
Since a change of management in 2013 we have brought Rugby League to Pyle RFC and the Borough of Bridgend with our overall aim of providing a range of junior and community sporting opportunities. At Bridgend Blue Bulls Rugby League, we offer players from all backgrounds an opportunity to keep fit, make new friends, have fun and learn valuable lessons about teamwork and sportsmanship as part of a not-for-profit sporting body.
We have secured a working partnership with St Helens RL, as a community partner we will have links straight to the Super League. The realisation of the talent in South Wales is now apparent and we will push every player to be the best they can be. We will work to bring Rugby League to the community through the schools and events. Top coaches will deliver specific sessions and identify talented players who they believe to be ready for a step up the ladder.
The Bridgend Blue Bulls Rugby League has designed several tiered packages which will give businesses the opportunity to support our club and grass roots junior sport at all levels while increasing your brand exposure through a variety of mediums including, social media, print, signage, membership database, competition naming rights and much more. In return for your investment, the Bridgend Blue Bulls Rugby League will work towards helping your business to increase your brand awareness and image, to gain new customers and to develop relationships with existing customers, and in doing this, you showcase your devoted involvement in supporting the local community and Rugby League in Bridgend County Borough.
I am confident our dedicated volunteers, backed with your desire to see the growth of the sport in Bridgend; will enhance your business brand and customer awareness and we would relish the opportunity to work with your business to reach our growing audience.
In finishing, I would like to extend my sincere thanks for taking the time to read our sponsorship proposal, which we believe will provide an exciting marketing opportunity for your business we would very much like the opportunity of working in partnership with you and your business.
Bridgend Blue Bulls Rugby League looks forward to welcoming you to our family and working with you in 2018 and beyond.
Click on the link for more info
Follow the site to get the latest news and results straight to your email