Blue Bulls Rugby League

News Report
Season start is upon us
Author: Steve, 12/05/17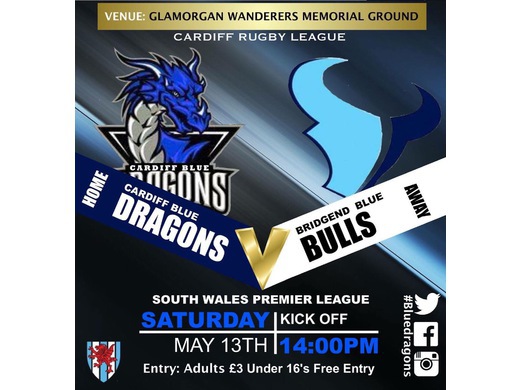 Cardiff Blue Dragons' move to Glamorgan Wanderers is a positive step for the capital club but their welcoming of Bridgend Blue Bulls to the Memorial Ground will be a baptism of fire for the home side.
Cardiff team manager Alf Harvey said: "It has been a busy pre-season cementing the relationship at Glamorgan Wanderers and recruiting coaching staff and volunteers. After a successful set of pre-season games, the senior team are in a good place prior to the season kick-off against the always impressive Bridgend Blue Bulls.
"The club has seen an excellent response from the community so we will be fielding a full junior section for the first time at all age levels.

"We are looking forward to welcoming all the age grades of Bridgend Blue Bulls over the weekend which we are sure will be a great advert for junior rugby league in South Wales."
An under 15 unfortunately is not going ahead between the two sides but game's with the under 13 and 17 games taking place on Sunday from 11am.
Bridgend team manager Stephen Smith said: "We're defending our title and we've done that before, but this season will be tougher with three sides coming into the League from English competitions. We start against Cardiff who we know very well and it'll be a tough encounter."
WEEK 1 FIXTURES
Torfaen Tigers v Valley Cougars – Friday – Cwmbran RFC – 7pm
Cardiff Blue Dragons v Bridgend Blue Bulls – Saturday – Glamorgan Wanderers RFC – 2pm
JUNIOR GAMES – please check www.walesrugbyleague.co.uk or http://tinyurl.com/wrlcalendar for fixture times and venues…
Under 17 - Cardiff Blue Dragons v Bridgend Blue Bulls
Under 15 - West Wales Raiders v Rhondda Outlaws
Under 13 - Cardiff Blue Dragons v Bridgend Blue Bulls , West Wales Raiders v DC Wildcats
Follow the site to get the latest news and results straight to your email